60th Anniversary Celebration
The date has been finalized for our 60th Anniversary celebration. It will be Saturday, August 26th, 2023. There is already a troop campfire being planned for that evening since the boys and leaders will be holding their annual planning campout that weekend. Alumni/adults are encouraged to participate and we have room on the property for any adults or alumni who might want to camp overnight . Events planned included: Presentation a new Troop flag (with 60-year patch), Memorabilia Tent/Museum/Slideshow, Woggle making workshop. Suggestions are also welcomed.
I'm asking that everyone who receives this email and knows past members that have not been recently active to please contact them and tell them if they want to be kept advised about this event, they can send me an email at john@gollners.com along with their preferred email address and their current phone number. I will be happy to add them to a "60th only" mailing list.
Pictures or short videos that anyone thinks might be of interest can be sent to the scout hut (5742 East Cherokee Drive, Canton, 30115), or emailed to me and I will make them available.
John Gollner
404.229.2080
john@gollners.com

Upcoming
June 11 - 17, 2023
Summer Camp
Camp Daniel Boone
August 26, 2023
60th Anniversary
Celebration
Scout Hut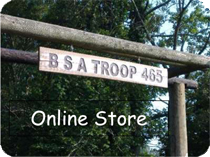 Troop 465 Online Store
Pay for outings, dues, and purchase Troop merchandise