CANCELLED DUE TO SEVERE WEATHER
Cherokee County Farm Bureau Annual Political Forum
Tuesday, August 31st
Cagle's Family Farm, 5267 Conns Creek Road, Ball Ground, https://goo.gl/maps/acSiAXqZGLn
The Troop has been asked to support the Cherokee County Farm Bureau's Annual Political Forum by serving ice cream, presenting the colors, leading the pledge and giving the invocation. This is a great community support activity, opportunity for service hours, a chance to see politics at the local level, and something that the Troop has done for many years.
The Cagle's Family farm is about 16 miles northeast of the Scout Hut off Yellow Creek Road. Troop members need to be there starting at 5:00 pm to set up.
If any of the Scouts who volunteered to help with this event need a ride, we will be leaving the Scout Hut around 4:00 pm that evening.
We will also need help from our Troop families to make ice cream for this event.
Questions can be directed to the Chartered Organization Representative, Doug Kirk, cor@troop465.org, 404-822-0197.
Signup: https://www.signupgenius.com/go/4090A4DAFAD22A20-20215
Cherokee County Farm Bureau Annual Political Forum webpage, https://ccfarmbureau.org/political-forum
Upcoming
September 25, 2021
Optimist Club & Special Olympics
Fishing Day Service Project
October 15 - 17, 2021
Trail Days Webelos-ree
Hickory Flat UMC
October 30, 2021
Merit Badge Summit
Atlanta Area Council
Volunteer Service Center
November 12 - 14, 2021
(Tentative)
Scout Skills Academy
Red Top Mountain
State Park
December 3 - 5, 2021
(Tentative)
Shooting Sports Campout
Pickens County
Sportsmen Club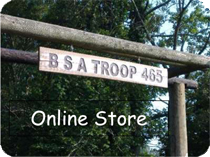 Troop 465 Online Store
Pay for outings, dues, and purchase Troop merchandise