A.T. Assemble!!
Appalachian Trail District Spring Camporee
Friday, March 27 - Sunday, March 29, 2020
Woodruff Scout Camp, https://goo.gl/maps/LCiLM9AALKfJE42y6
Does your Patrol work together as well as the Avengers? Do you have as much fun together as the Guardians of the Galaxy? Come to the Spring Camporee and test your Scout Skills in a series of trials and find out!
Drop-off: 465 Scout Hut - Friday, March 27th @ 5:00pm
Pick-up: 465 Scout Hut - Sunday, March 29th @ 1:00pm
Cost: $10 per youth / $5 per adult (plus patrol food costs)
RSVP here: https://www.signupgenius.com/go/4090a4dafad22a20-2020
Scout Lead - Jacob Mavromatidis
Adult Lead - TBD
Upcoming
March 3, 2020
Summer Camp Planning Meeting
March 17, 2020
Troop Committee Meeting
March 20 - 22, 2020
Introduction To Outdoor Leader Skills (IOLS)
March 30, 2020
Patrol Leaders' Council (PLC) Meeting
Advancement Work Night
March 27 - 29, 2020
Spring Camporee
April 13, 2020
Spring Court Of Honor
April 17,2020
465 Alumni Meeting
April 19, 2020
Eagle Court Of Honor
April 21, 2020
Troop Committee Meeting
April 27, 2020
Patrol Leaders' Council (PLC) Meeting
Advancement Work Night
April 25 - 26, 2020
Spring Backpacking Trip
June 7 - 13, 2020
Summer Camp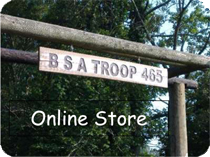 Troop 465 Online Store
Pay for outings, dues, and purchase Troop merchandise