Update – Two days instead four days- Reason one museum Eglin AFB Armament Museum is closed on all Sundays and also Monday Presidents Day February 17 Federal Holiday.
Winter Break Military Trip
Monday, February 17 - Tuesday, February 18, 2020
National Infantry Museum, National Naval Aviation Museum, and USS ALABAMA Battleship Memorial Park
Can you say road trip? Eighteen scouts and nine adult leaders. We have firm reservations and can't add any more persons. We have two large vans and a SUV.
During the first part of winter break week we're going to go on a whirlwind military road trip. First stop will be National Naval Aviation Museum in Pensacola FL, We'll then bounce over to Alabama and spend the night on a World War II battleship! At the USS ALABAMA Battleship Memorial Park in Mobile AL. Then we will visit National Infantry Museum in Columbus GA. That's 2 days, 3 states, 2 branches of military service! The Troop has done a similar trip visiting some of these places before and they are all outstanding!
Monday February 17th we'll meet at the Scout hut no later than 4:30 am having already eaten breakfast or bring breakfast with you and we will leave at 5:00 am. We know this is very early and if anyone has a problem getting there please contact us for someone to pick up your scout and carpool to the scout hut. We will travel to Pensacola Florida National Naval Aviation Museum eating a second breakfast and then a later lunch along the way Then we will travel to Mobile Alabama and visit the USS Alabama Battleship Memorial park which has aircraft on display and a submarine to tour, and then we board and tour the USS Alabama Battleship (BB60), then we have Dinner (Cheeseburger. Chips, cookie, and fountain drink) and stay overnight on the USS Alabama Battleship We will be sleeping in the ship bunks so bring a sleeping bag, and a favorite pillow (if desired). We will wear Scout Class A uniform on Monday.

Tuesday February 18th we will eat Breakfast (eggs, bacon, potatoes or grits, biscuit, gravy, juice or coffee, Danish, and cereal) on the USS Alabama Battleship, then pack up and leave to visit the National Infantry Museum in Columbus GA eating lunch along the way, and then we'll head home eating dinner along the way and we are planning on arriving at the Scout hut at approximately 8:00 pm. We'll call you with a more accurate arrival time. This day we can wear a Scout T-shirt or hoodie and Scout cap in place of the Scout Class A uniform.
Cost is $70.00. You can pay at Troop meeting or online, https://squareup.com/store/troop465/item/uss-alabama-february-trip. Monday Dinner and Tuesday breakfast included. Payments are due no later than Monday February 10th.
Each Scout will need to bring an additional $40.00 cash to individually order and pay for their 4 meals (second Breakfast, lunch on Monday, lunch, and dinner on Tuesday) on the road (assuming $10.00/meal). Each Scout can bring extra money for any gift shop purchases (patches, t-shirts, etc.) or snacks at the gas stops.
Each Scout will need a USS Alabama Hold Harmless Agreement form to be completed by the parent and turned in no later than Monday February 10th.
What to bring:
Sleeping bag, and pillow (if desired). We will sleep in the USS Alabama Battleship bunks (the same bunks that the WWII servicemen slept in) which have mattresses and pillows.

Towel, wash cloth, soap, deodorant, toothbrush, toothpaste, shampoo, shower shoes (flip flops), and other items. There are showers on the USS Alabama Battleship.

Any required Medicines, retainers, etc.

Class A Scout uniform.

Jacket and rain gear.

Sleeping clothes.

Changes of clothes (Scout T-shirt, or hoodie), underwear, and socks, shoes.

Soft Bag to contain the above gear.

Bring phones or other devices with headphones, and chargers
Leaders: Committee persons Daniel Warner, dfwarner2013@gmail.com, 678-488-5925, and Lynn Sewell, lcs021050@comcast.net, 404-226-0168, Marvin Zeigler, Assistant Scout Masters John Wagner, David Lipscomb, Burt Thompson, Thomas Sewell, Scout Master Jason Norred, Parent Brian Cox.
Scouts: Jonathan Lipscomb, Logan Lanyan, Casey Beane, Hank Wallace, Jacob Mavromatidis, Luka Norred, Cannon Thompson, Nathan Sewell, Jack McFadin, Davis Beane, Sean Kirby, Jiralya Powell, Owen Webb, Nicholas Zelinsky, Ethan Zeigler, Mason Cox, Gabe Russell, Carson Gaydon.

Upcoming
December 4 - 5, 2020
Escalade Climbing Gym Lock In
December 5, 2020
Scout Hut Workday
December 6, 2020
Anthony Palmer & Joey Canale's Eagle Court Of Honor
December 13, 2020
Christmas Court Of Honor
Scout Hut
January 29 - 31, 2020
Cloudland Canyon Campout
February 1, 2020
Registration Deadline
Okefenokee Swamp Canoe Trip
February 13 - 16, 2020
Okefenokee Swamp Canoe Trip
June 13 - 19, 2021
Summer Camp
Camp Rainey Mountain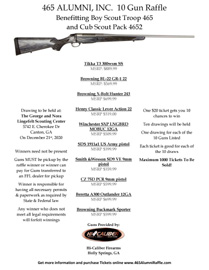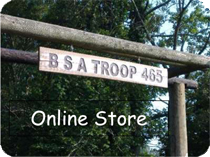 Troop 465 Online Store
Pay for outings, dues, and purchase Troop merchandise