Troop Upcoming Signups (August)
Tonight - PLC Meeting
Tonight's troop meeting is a PLC meeting so there will not be a typical troop program. Members of the PLC will meet upstairs to do August planning. All other scouts are welcome to attend and work on advancement with any available Assistant Scoutmaster or Merit Badge Counselors. Note that the basement is currently undergoing a renovation, so it and most of the pavilion will be unavailable.
Saturday, August 8th - Special Olympics - Service Hours Opportunity
3:30pm - 8:00pm @1188 Julius Bridge Rd. Ball Ground, GA
DETAILS: http://www.troop465.org/specialolympicsserviceproject.htm
SIGN UP: https://www.signupgenius.com/go/20F0A44AEAC29A0FA7-special1
Troop 465 has once again been invited to assist with the Special Olympics Fishing Event on August 8th. The event on Saturday August 8th will include setting up for dinner, cooking hot dogs, and the most important activity will be assisting the kids participating in the Special Olympics fishing event. This is a great opportunity to earn service hours (you must have the scoutmaster's approval). The service hours for this event can also go to completing requirement 7a-7c of Citizenship in the Community merit badge (you must have started the MB already and have the approval of your councilor).
August 14-16 - Troop Campout @ Woodruff
DETAILS: http://www.troop465.org/woodruffcamout.htm
SIGN UP: https://www.signupgenius.com/go/4090a4dafad22a20-troop2
Please sign up for our August Campout at Woodruff Scout Camp in Blairsville, GA. This campout will have opportunities for SWIMMING, CANOEING, exploring beautiful Camp Woodruff, and voting on our 2021 troop activities!
-Cooking is by patrol, so each patrol needs to have their menu and grubmaster approved by an Assistant Scoutmaster before August 10th.
-Patrol equipment will be issued by the Quartermaster on August 10th.
-Due to Covid concerns, each scout will need their own tent. If you need to borrow a troop tent, please see the Quartermaster by August 10th.
Upcoming
August 1, 2020
Carter Thompson's Eagle
Service Project Day 1
August 8, 2020
Carter Thompson's Eagle
Service Project Day 2
August 8, 2020
POSTPONED
Special Olympics
Service Hours Opportunity
August 14 - 16, 2020
Troop Campout
Woodruff Scout Camp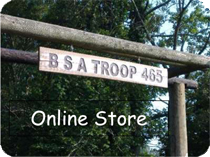 Troop 465 Online Store
Pay for outings, dues, and purchase Troop merchandise