May is flying by and we are fast approaching Summer Camp! Please take a moment and review these key upcoming dates for MAY and JUNE.
MAY 17 (TOMORROW) - TROOP MEETING (Topic: Summer Camp Packing)
During this troop meeting we will be discussing what to pack (and not pack) for Summer Camp. Parents are encouraged to attend and listen in. If this is your son's first time going to Summer Camp, you should try to attend. Meet under the pavilion at 7:15pm.
MAY 18 - TROOP COMMITTEE MEETING
Along with our routine monthly topics, we will devote plenty of time to Summer Camp logistics (Advancement, Transportation, Health Records, Payments, etc).
All parents are invited to come listen in or contribute! This is a great chance to get your questions answered. Meet upstairs in the Scout Hut at 7:00pm.
MAY 24 - TROOP MEETING
MAY 31 - PATROL LEADERS COUNCIL MEETING
This is also Memorial Day.
JUNE 7 - TROOP MEETING (Topic: Leadership Election Speeches)
In our last troop meeting prior to Summer Camp, the boys that are running for SPL or Patrol Leader will address the troop in an election speech.
JUNE 14 & 21 - BREAK: NO MEETINGS
We will not have Troop Meetings these two Mondays.
JUNE 26 - COURT OF HONOR BANQUET
Our post-Summer Camp banquet and awards recognition ceremony. All families are encouraged to attend and celebrate the achievements of our scouts.
JUN 28 - PATROL LEADERS COUNCIL MEETING
YIS,
Jason Norred
Scoutmaster
678-516-0146
scoutmaster@troop465.org
Upcoming
May 18, 2021
Troop Committee Meeting
June 13 - 19, 2021
Summer Camp
Camp Rainey Mountain
June 26, 2021
Court Of Honor Banquet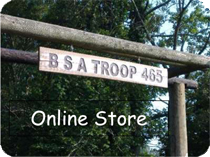 Troop 465 Online Store
Pay for outings, dues, and purchase Troop merchandise