Summer Camp 2021
June 13 - 19, 2021
Camp Rainey Mountain
Now is the time to sign up for Summer Camp 2021! If your scout wants to go with us to Camp Rainey Mountain JUNE 13 - JUNE 19th, you need to complete the REGISTRATION LINK below, and make the first payment of $175 by FEBRUARY 1st.
2021 Rainey Mountain Summercamp Course Schedule:
http://www.troop465.org/Docs/2021_Rainey_Mountain_Course_Schedule.pdf
2021 Rainey Mountain Information Sheet: http://www.troop465.org/Docs/2021_Summer_Camp_info.pdf
REGISTRATION LINK: https://forms.gle/1VzB5dUmv4QbcPEi7
PAYMENT LINK: https://troop465-105238.square.site/
Camp Rainey Mountain is in Clayton, GA, about 2 hours away. It offers 65 different merit badge class options, and several different high adventure options for the older scouts. Camp costs will be approximately $350 per scout and $180 per adult. Payment options will be communicated in the coming weeks.
Read more about CRM here: https://www.nega-bsa.org/campraineymountain/
Upcoming
May 18, 2021
Troop Committee Meeting
June 13 - 19, 2021
Summer Camp
Camp Rainey Mountain
June 26, 2021
Court Of Honor Banquet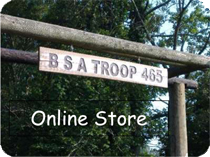 Troop 465 Online Store
Pay for outings, dues, and purchase Troop merchandise