Summer Camp
Sunday, June 7 - Saturday, June 13, 2020
Camp Salacoa
Summer Camp Meeting
We will be holding our second Summer Camp Meeting on Tuesday, March 3rd at 7pm at the Scout Hut. We would like anyone who is signed up to assist, would like to hear of opportunities to volunteer for camp, or would just like to hear more information and ask questions about camp to attend. The more help and assistance that we can get the better and smoother camp will run. There are several items that we need to discuss and make decisions on, along with discussing some of the logistics of camp. This is only our second meeting for camp, and we only anticipate having another 1 or 2 meeting prior to camp, which makes it crucial for all those who are planning to help, would like to help, or want more information about camp to attend.
*We are anticipating camp registration to open in the range of the next 2 weeks, so please be on the look out for more information regarding Summer Camp Registration.
Please feel free to email us with any questions that you have.
Thank you,
Cody Lamanac & Mike Palmer

Merit Badge Counselors Needed!
We have developed the Merit Badge Class Schedule from the input of the boys, and I need to see what we have in terms of staff capacity of being able to service all these classes. As of right now this is who I have for classes:
Have Lead(s), but some need assistance:
Swimming: Andy Wick (Needs Assistance)
Shotgun: John Ballard, John Gollner, Bert Thompson
Life Saving: Andy Wick (Needs Assistance)
Rifle: John Ballard, John Gollner, Bert Thompson
Archery: Kyle Sears (Needs Assistance)
Kayaking: Andy Wick (Needs Assistance)
Canoeing: Andy Wick (Needs Assistance)
Open Classes (Needs Min. 1 Instructor):
First Aid (Min. 2 Instructors)
Cit. In the World (1)
Emergency Prep. (1)
Finger Printing & Game Design (1-2)
Cooking (1)
Forestry (1)
Cit. In the Nation (1)
Camping (1)
Scout Skills (John and John? w/ assistance)
Env. Science (2)
Cit. In the Community (1)
Communications (1)
Orienteering (2)
Wood Working (2)
Fly Fishing (1)
Wilderness Survival (2)
Engineering (1)
If you are qualified to teach any of these badges, are planning to be at camp, and would be willing to instruct them, please contact Cody Lamanac by email at clamanac@gmail.com.
I need to see what I have in terms of instructors, so I can determine if I need to make any revisions to the proposed class list. I cannot finalize and open Summer Camp Registration until I have a rough idea of what badges we will be able to offer based on instructor availability. I appreciate the willingness of those to help to make this camp a success. If you have any questions regarding the class list, or other camp questions, please feel free to email me.
Summer Camp is Sunday, June 7th - Saturday, June 13th with classes being held on Monday, Tuesday, and Wednesday. There is no charge to adults for attending summer camp to assist with camp.
Thank You,
Cody Lamanac
clamanac@gmail.com
Summer Camp Online Payments
https://squareup.com/store/troop465/item/summer-camp
Upcoming
March 3, 2020
Summer Camp Planning Meeting
March 17, 2020
Troop Committee Meeting
March 20 - 22, 2020
Introduction To Outdoor Leader Skills (IOLS)
March 30, 2020
Patrol Leaders' Council (PLC) Meeting
Advancement Work Night
March 27 - 29, 2020
Spring Camporee
April 13, 2020
Spring Court Of Honor
April 17,2020
465 Alumni Meeting
April 19, 2020
Eagle Court Of Honor
April 21, 2020
Troop Committee Meeting
April 27, 2020
Patrol Leaders' Council (PLC) Meeting
Advancement Work Night
April 25 - 26, 2020
Spring Backpacking Trip
June 7 - 13, 2020
Summer Camp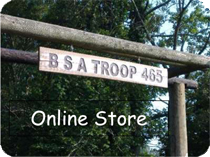 Troop 465 Online Store
Pay for outings, dues, and purchase Troop merchandise