Troop Committee
The troop committee supports the operation of the troop with vital administrative and logistic functions.
All adults over the age of 21 are welcome to join the Troop Committee and allowed to vote on business items at monthly Troop Committee Meetings.
TROOP COMMITTEE CHAIRMAN - Ken Orris - 770-715-9426
ADVANCEMENT CHAIR - David Gassman - 770-286-6594
ADVANCEMENT ASSISTANT -OPEN-
EQUIPMENT CHAIR -OPEN-
FACILITIES CHAIR - Lynn Sewell - 404-226-0168
FINANCE CHAIR - Tonya Brooks - 678-758-3424
FINANCE ASSISTANT -OPEN-
MEMBERSHIP CHAIR -OPEN-
MEMBERSHIP ASSISTANT -OPEN-
OUTINGS CHAIR - Bill Hamlin - 678-283-4122
OUTINGS ASSISTANT -OPEN-
SECRETARY -OPEN-
WEBMASTER - Chuck Brooks - 770-598-3668
UNASSIGNED
FAMILY AUXILIARY
---------------------------------------------------------------------------------------------------------------------
The Committee Chairman, and all of the members of the Troop Committee of Troop 465 adhere to the following creed set forth by our chartering institution, 465 Alumni Inc:
As an adult member of BSA Troop 465, I affirm a belief in God, I acknowledge that the scouting movement is non-sectarian and requires a duty to God.

I affirm and agree to conduct my life by adhering to the scout oath and law as all scouts are expected to do.

I agree to conduct the scouting program according to our sponsor's policies and guidelines as well as those of the Boy Scouts of America.

I hereby agree to require that each scout I counsel in rank advancement or merit badge achievement specifically follow each requirement of the rank or badge exactly as the requirement are written.

I believe and affirm that as an adult member of Troop 465, my purpose is to help build character in boys and support my Troop. Therefore I shall set an example by performing correctly the duties I owe to God, my Country, my family, my neighbors and myself.
For more information, please contact, Committee Chairman Ken Orris, cchair@troop465.org, (770) 715-9426.
Upcoming
November 17 - 19, 2023
Iron Chef
Competition Campout
Scout Hut
December 1 - 3. 2023
Backpacking Trip
Panthertown Valley Trail
December 10, 2023
Winter Court of Honor
New Life Church
December 15, 2023
Deadline
2024 Membership
Renewal/Recharter
December 17, 2023
Rifle Marksman Shoot
Appalachian Gun Pawn
& Range
January 27 - 28, 2024
Georgia Aquarium Trip
Georgia Aquarium
February 11, 2024
Scout Sunday
TBD
February 17 - 21, 2024
Primitive Island Camp
Reed Bingham
State Park
June 30 - July 6, 2024
Summer Camp
Woodruff Scout Camp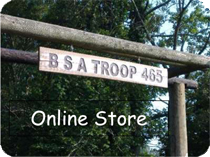 Troop 465 Online Store
Pay for outings, dues, and purchase Troop merchandise