Jason Norred
8 th Troop 465 Scoutmaster
2019 - present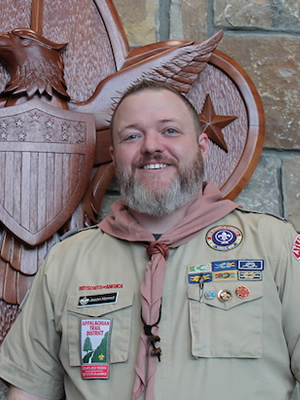 Mr. Norred grew up in the Atlanta area, at the tail end of Generation X. As a youth, he was Life Scout and SPL at Troop 909, a cadet First Sergeant in a Civil Air Patrol ground search and rescue team and enjoyed the formative years of computer networks and video gaming.
He and his wife Rachel currently live in Hickory Flat, off of Sugar Pike Road. Their son, Luka, is twelve years old and a Second Class scout and Bugler with Troop 465. Their daughter Zoe is in her Junior year at Creekview High School and has a passion for graphic design and animation.
Professionally, Jason has been in Managed IT Services for 20 years and is currently the Director of Solution Development at PCM. He and his team are often called upon to rearchitect business processes and IT systems at major enterprises around the world.
As a scouting volunteer, Jason was a Cubmaster at Pack 4652 for four years and has also served units as: a den leader, a Pack Committee Member, Troop Committee Member, and Assistant Scoutmaster. He has served on the Appalachian Trail district committee for three terms, in charge of communications, serving in roles on the Program and Finance sub committees, and most recently as a Vice-Chair. Jason is also a member of the Appalachian Trail Commissioner Corps, serving as a Assistant District Commissioner for Roundtables.
Jason feels honored to have received the Unit Leader Award of Merit in 2015, and the District Award of Merit in 2017. He attended Wood Badge training as a 92-86 Beaver and recently served on Wood Badge Staff for course 92-91.
Jason is passionate about the eight methods of scouting and is a true believer in the magic of the Patrol Method.
Upcoming
June 11 - 17, 2023
Summer Camp
Camp Daniel Boone
August 26, 2023
60th Anniversary
Celebration
Scout Hut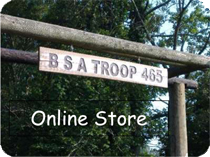 Troop 465 Online Store
Pay for outings, dues, and purchase Troop merchandise