Gerald Dobson
4th Troop 465 Scoutmaster
2002 - 2009
Gerald Dobson served as the Scoutmaster of Boy Scout Troop 465 from 2002-2009. Gerald and his wife, Cathy became affiliated with Troop 465 in
1992, when their son Jeremy became a Scout at age 11. Scoutmaster Dobson says that the tremendous reputation of Troop 465 and of George Lingefelt was the reason why they chose Troop 465. Gerald and Cathy's other two sons, Joshua and Jamey, also joined the troop when they turned 11. Also, all three of Gerald's sons have earned the rank of Eagle Scout.
Gerald was born in 1957 and grew up in Ball Ground, Georgia. (He is quick to point out that he's actually from the Clayton community, which is between Keithburg and Gober.) Growing up, he was a Boy Scout in another Cherokee County troop, and enjoyed camping and hiking. Gerald graduated from Cherokee High School in 1975, and joined the Air National Guard for weekend duty in 1976. Gerald married the former Cathy Reece in 1978, and then began working for Lockheed in 1981. In 1984, he left Lockheed to become a full time reservist, and obtained the rank of Chief Master Sergeant for the 283rd Combat Communications Squadron at Dobbins Air Force Base. In 2007, Gerald retired from the military.
Troop 465 is fortunate to have had Gerald Dobson as their Scoutmaster, and his entire family should be credited for helping to create the wonderful Scouting experience that our boys receive today.
If you have any questions about joining Boy Scout Troop 465, you are invited you to contact us.
Upcoming
August 19, 2023
Service Project:
Scouthut Workday
Scout Hut
August 26, 2023
60th Anniversary
Celebration
Scout Hut
August 25 - 27, 2023
Planning Campout
Scout Hut
September 8 - 10, 2023
Webelos-ree
Location TBD
September 30, 2023
Service Project:
Special Olympics
Fishing Picnic
Darnell Family's Lake
October 20 - 22, 2023
Scout Skills Academy
Camp Allatoona
Aquatics Base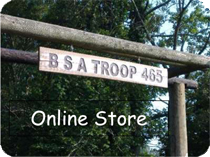 Troop 465 Online Store
Pay for outings, dues, and purchase Troop merchandise