Nathan Valles' Eagle Service Project
Saturday October 12th
Hickory Flat Fellowship 5301 Hickory Flat Highway, https://goo.gl/maps/7wzdXv3ZiFSoze22A
Nathan's project is building an area of prayer to God and a moment of reflection. This project will consist of moving benches, mulch and help with the base of the project. Nathan wants everyone who is attending to bring work gloves, shovels, hoes, wheel barrows and garden rakes. Be sure you bring your water bottle to stay hydrated. Lunch and drinks will be provided. The project will begin at 8:00.
Any questions call or text 404-610-1694.

2020 Recharter
Attention Parents and Scouts,
We are quickly approaching that time of year where we recharter our Troop and Scouts. While we normally would have started that process, this year we are in a holding pattern, due to the recent announcement from BSA National Council about an increase in annual dues. A portion of the dues that you pay our Troop ultimately ends up supporting the BSA at the national level. Currently, that amount is $33.00 per Scout and adult leader. The balance is used to support the Troop and our local council.
BSA National has stated that it will notify all local councils by October 23rd what the new dues amount will be. Troop 465 likely will have no choice but to pass that increase along to our Scouts and leadership. Currently, our annual dues for Scouts are $108 and $54 for our leaders. We expect that amount to increase due to the increase at the national level.
Once we have a final amount for the dues increase, we will send another email with the new Troop 465 dues amount. Our Troop will continue to do its best to ensure that all boys who want to participate can do so, regardless of ability to pay. If your Scout will need a scholarship, then we will be available to discuss that, once we know the actual amount of dues to be paid.
If you wish to get a jump on recharter, you can start filling out another BSA Annual Health & Medical Record (health form) Parts A & B and the 2020 Recharter Form. We will accept these forms and dues payments at a later date to be determined, after final dues amounts are confirmed.
Please contact me if you have any questions about the recharter process.
David Canale
Committee Chair
cchair@troop465.org
678-467-2421
Troop
465 History Project
John Ballard, Nancy Wick, and Dan Warner, along with several others have completed this December 2018 edition of "A Brief History of Troop 465; the First Fifty-Five Years". It's 222 pages which covers 1963 -2018.
Please read and review this document and provide us with any suggestions, comments, corrections, or additions.
With many of you helping (both past and present Troop members and families) this can be a very rewarding project!!!
Please submit your items to Dan Warner at dfwarner2013@gmail.com, or call him at 678-488-5925, or stop by the Scout hut on Monday nights.
Thank you for your assistance,
Troop 465 History Committee
The purpose of the Boy Scouts of America, incorporated on February 8, 1910, and chartered by Congress in 1916, is to:
Provide an educational program for boys and young adults to build character.

Train in the responsibilities of participating citizenship.

Develop personal fitness.
How you can get involved:
JOIN as a youth member with Troop 465.

VOLUNTEER as a Troop Committee member or Assistant Scoutmaster

GIVE to 465 Alumni Inc. to support Troop 465's sponsor.
Serving youth for over 50 years, Troop 465 has had a proud heritage of molding boys into men according to the criteria listed above. Our
Scoutmaster Emeritus, George Lingefelt, say's "If you want boys to become leaders, you have to train them and then let them lead", and thus began our "boy-lead troop" mind set. Jason Norred is our current Scoutmaster and passes these skills on. In fact, Scoutmaster Norred is only our 8th Scoutmaster since 1963.
Since 1996, the Troop Sponsor has been 465 Alumni, Inc., dba Friends of Troop 465, a non-profit organization specifically enacted to support Troop 465 both financially and philosophically. Troop 465 has a permanent Scout Hut, on over 3 acres, thanks to the generosity and foresight of 465 Alumni, Inc.
Troop 465 is unique because of the tremendous support from our members and their families. If you would like more information about joining troop 465, please click here.
Upcoming
October 8 , 2019
Farm Bureau Annual
Political Forum
October 18 - 20, 2019
Trail Days Camporee
November 8 - 10, 2019
Hornaday Conservation Weekend
December 14, 2019
Veteran's Cemetery
Service Project
Wreath's Across America
December 22, 2019
Christmas Court Of Honor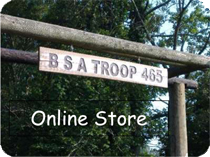 Troop 465 Online Store
Pay for outings, dues, and purchase Troop merchandise