465 Alumni is the charter organization that supports Troop 465 and Pack 4652. They are having a gun raffle to raise money. They will raffle 10 guns on December 21st. The price of a ticket is $20. Only 1000 tickets will be sold. Please share this information with as many as you can.
Please reach out to Jason Lanyon at (404) 556-4596 or Daniel Nicholson at (404) 421-8330 to purchase tickets. Also, if you would like to be assigned some books of tickets (5 tickets per book) to sell, contact Jason Lanyon at (404) 556-4596.
Raffle Flier: http://www.troop465.org/Docs/465_Alumni_Inc_10_Gun_Raffle.pdf



Anthony Palmer & Joey Canale's Eagle Court Of Honor
Sunday, December 6, 2020
The Pointe Church, https://goo.gl/maps/6FgDZCn2H9jK9u4AA
You are invited to attend the Eagle Scout Court of Honor ceremony for Anthony Palmer and Joseph Canale, on Sunday, December 6, 2020, at 3:00 o'clock p.m. The Court of Honor will be held at The Pointe Church, 207 Marvin Land Lane, Canton, GA 30115. Light refreshments will be served following the ceremony. Please RSVP to Jean Palmer via text message to (404) 786-8882 by Wednesday, December 2, 2020.


In October of each year, our Troop begins the process of renewing its charter as an official part of the Boy Scouts of America. As a part of this process, every registered YOUTH and ADULT member of the Troop must renew their BSA membership and pay yearly dues. We are asking that everyone complete the renewal process over the next two weeks, and we would like to be fully wrapped up by November 13th. This process can be completed entirely online this year, or you are welcome to do it in person at one of the next two Monday night meetings.
Start the process by filling out one of these recharter forms:
Dues payment can be made on the troop store, or in person. The Troop Committee has set the 2021 dues at: $168/scout and $84/adult. As always, financial assistance is always available for families that need it.
Questions about Membership Renewal can be directed to Ken Orris, cchair@troop465.org.


Troop
465 History Project
John Ballard, Nancy Wick, and Dan Warner, along with several others have completed this December 2018 edition of "A Brief History of Troop 465; the First Fifty-Five Years". It's 222 pages which covers 1963 -2018.
Please read and review this document and provide us with any suggestions, comments, corrections, or additions.
With many of you helping (both past and present Troop members and families) this can be a very rewarding project!!!
Please submit your items to Dan Warner at dfwarner2013@gmail.com, or call him at 678-488-5925, or stop by the Scout hut on Monday nights.
Thank you for your assistance,
Troop 465 History Committee
The purpose of the Boy Scouts of America, incorporated on February 8, 1910, and chartered by Congress in 1916, is to:
Provide an educational program for boys and young adults to build character.

Train in the responsibilities of participating citizenship.

Develop personal fitness.
How you can get involved:
JOIN as a youth member with Troop 465.

VOLUNTEER as a Troop Committee member or Assistant Scoutmaster

GIVE to 465 Alumni Inc. to support Troop 465's sponsor.
Serving youth for over 50 years, Troop 465 has had a proud heritage of molding boys into men according to the criteria listed above. Our
Scoutmaster Emeritus, George Lingefelt, say's "If you want boys to become leaders, you have to train them and then let them lead", and thus began our "boy-lead troop" mind set. Jason Norred is our current Scoutmaster and passes these skills on. In fact, Scoutmaster Norred is only our 8th Scoutmaster since 1963.
Since 1996, the Troop Sponsor has been 465 Alumni, Inc., dba Friends of Troop 465, a non-profit organization specifically enacted to support Troop 465 both financially and philosophically. Troop 465 has a permanent Scout Hut, on over 3 acres, thanks to the generosity and foresight of 465 Alumni, Inc.
Troop 465 is unique because of the tremendous support from our members and their families. If you would like more information about joining troop 465, please click here.
Upcoming
December 4 - 5, 2020
Escalade Climbing Gym Lock In
December 5, 2020
Scout Hut Workday
December 6, 2020
Anthony Palmer & Joey Canale's Eagle Court Of Honor
December 13, 2020
Christmas Court Of Honor
Scout Hut
January 29 - 31, 2020
Cloudland Canyon Campout
February 1, 2020
Registration Deadline
Okefenokee Swamp Canoe Trip
February 13 - 16, 2020
Okefenokee Swamp Canoe Trip
June 13 - 19, 2021
Summer Camp
Camp Rainey Mountain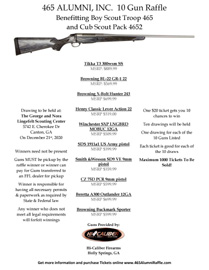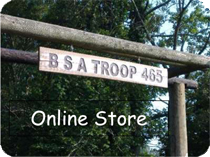 Troop 465 Online Store
Pay for outings, dues, and purchase Troop merchandise