Ben Webster's Eagle Scout Service Project
Saturday, January 23rd, 9:00 am - 12:00 pm
Hickory Flat Fellowship , 5301 Hickory Flat Hwy, Canton
https://goo.gl/maps/5h3t2te1Sco7vyXZ9
Ben's project will be to build a small fence along a sidewalk and lay pavers around a sign. Please bring work gloves, shovels, drills, and post hole diggers. Be sure to come in work clothes. Lunch will be provided along with water and other beverages. Ben greatly appreciates any and all help. This is a great opportunity for those who need service hours.
If you have any questions or concerns, you can contact Ben by email or phone, lisajoy4452@gmail.com, 229-520-1457


Troop
465 History Project
John Ballard, Nancy Wick, and Dan Warner, along with several others have completed this December 2018 edition of "A Brief History of Troop 465; the First Fifty-Five Years". It's 222 pages which covers 1963 -2018.
Please read and review this document and provide us with any suggestions, comments, corrections, or additions.
With many of you helping (both past and present Troop members and families) this can be a very rewarding project!!!
Please submit your items to Dan Warner at dfwarner2013@gmail.com, or call him at 678-488-5925, or stop by the Scout hut on Monday nights.
Thank you for your assistance,
Troop 465 History Committee
The purpose of the Boy Scouts of America, incorporated on February 8, 1910, and chartered by Congress in 1916, is to:
Provide an educational program for boys and young adults to build character.

Train in the responsibilities of participating citizenship.

Develop personal fitness.
How you can get involved:
JOIN as a youth member with Troop 465.

VOLUNTEER as a Troop Committee member or Assistant Scoutmaster

GIVE to 465 Alumni Inc. to support Troop 465's sponsor.
Serving youth for over 50 years, Troop 465 has had a proud heritage of molding boys into men according to the criteria listed above. Our
Scoutmaster Emeritus, George Lingefelt, say's "If you want boys to become leaders, you have to train them and then let them lead", and thus began our "boy-lead troop" mind set. Jason Norred is our current Scoutmaster and passes these skills on. In fact, Scoutmaster Norred is only our 8th Scoutmaster since 1963.
Since 1996, the Troop Sponsor has been 465 Alumni, Inc., dba Friends of Troop 465, a non-profit organization specifically enacted to support Troop 465 both financially and philosophically. Troop 465 has a permanent Scout Hut, on over 3 acres, thanks to the generosity and foresight of 465 Alumni, Inc.
Troop 465 is unique because of the tremendous support from our members and their families. If you would like more information about joining troop 465, please click here.
Upcoming
January 9, 2021
Issac Zieg's Eagle Court Of Honor
January 11, 2021
Family Auxiliary Meeting
January 23, 2021
Ben Webster's
Eagle Service Project
January 30 - 31, 2021
Cloudland Canyon Campout
February 1, 2021
Registration Deadline
Okefenokee Swamp Canoe Trip
February 13 - 16, 2021
Okefenokee Swamp Canoe Trip
June 13 - 19, 2021
Summer Camp
Camp Rainey Mountain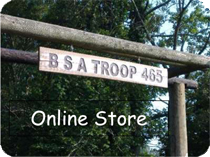 Troop 465 Online Store
Pay for outings, dues, and purchase Troop merchandise