Troop Reminders, May 25th
Troop Meeting
Troop Meetings will continue to be online using the same link as the past few weeks. Check your email for the login information.
Troop Elections
2020 SPL Elections will be held tonight Monday, May 25th with Patrol Leader elections happening next Monday night. Jacob M and Nathan V are running for SPL
Hank W, Cannon T, Ian Z, and Ben W are running as Patrol Leaders. If your scout is interested in one of the other troop positions, the SPL will call for nominations starting next week.
Rank Advancements
I'd like to announce that we have had two scouts complete ranks this past week. Please join me in congratulating them on a job well done.
---William Brooks is being awarded the rank of SCOUT.
---Nash Prakash is being awarded the rank of SCOUT.
Remember that if your scout needs help with their advancement requirements, the contact information for our Assistant Scoutmasters is available on our website: http://www.troop465.org/assistant_scoutmasters.htm
Knot of the Week Videos
We still no clear patrol winner for the past 2 Knot of the Week contests. We need more videos to break the tie on BOWLINE and TWO HALF HITCHES. If you want to help your patrol win, all it takes is a 45sec video of you tying the knot correctly. The patrol with the most participation wins an award for their flag.
To record your video, check your email for the login information.
Summer Camp
We are still evaluating options for conducting an alternative Summer Camp program in July. More to come soon.
Service Hours
If you scout needs to complete service hours, have them contact me. There are several outdoor projects that families can complete together on the scout hut property.
YIS
Scoutmaster Norred
678-516-0146
scoutmaster@troop465.org


Troop
465 History Project
John Ballard, Nancy Wick, and Dan Warner, along with several others have completed this December 2018 edition of "A Brief History of Troop 465; the First Fifty-Five Years". It's 222 pages which covers 1963 -2018.
Please read and review this document and provide us with any suggestions, comments, corrections, or additions.
With many of you helping (both past and present Troop members and families) this can be a very rewarding project!!!
Please submit your items to Dan Warner at dfwarner2013@gmail.com, or call him at 678-488-5925, or stop by the Scout hut on Monday nights.
Thank you for your assistance,
Troop 465 History Committee
The purpose of the Boy Scouts of America, incorporated on February 8, 1910, and chartered by Congress in 1916, is to:
Provide an educational program for boys and young adults to build character.

Train in the responsibilities of participating citizenship.

Develop personal fitness.
How you can get involved:
JOIN as a youth member with Troop 465.

VOLUNTEER as a Troop Committee member or Assistant Scoutmaster

GIVE to 465 Alumni Inc. to support Troop 465's sponsor.
Serving youth for over 50 years, Troop 465 has had a proud heritage of molding boys into men according to the criteria listed above. Our
Scoutmaster Emeritus, George Lingefelt, say's "If you want boys to become leaders, you have to train them and then let them lead", and thus began our "boy-lead troop" mind set. Jason Norred is our current Scoutmaster and passes these skills on. In fact, Scoutmaster Norred is only our 8th Scoutmaster since 1963.
Since 1996, the Troop Sponsor has been 465 Alumni, Inc., dba Friends of Troop 465, a non-profit organization specifically enacted to support Troop 465 both financially and philosophically. Troop 465 has a permanent Scout Hut, on over 3 acres, thanks to the generosity and foresight of 465 Alumni, Inc.
Troop 465 is unique because of the tremendous support from our members and their families. If you would like more information about joining troop 465, please click here.
Upcoming
Virtual Troop Meetings & Scouting
Until Further Notice.
Check your email for specific Information.
June 7 - 13, 2020
Summer Camp
Postponed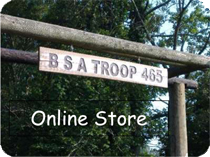 Troop 465 Online Store
Pay for outings, dues, and purchase Troop merchandise