Troop Update - Early April
Most importantly, I hope this email finds your family safe and well. I know everyone has been impacted in some way by COVID-19. Everything we once considered to be normal life has been put on pause while we tend to the health and safety of our families and our community. Scouting is just one of the things that have been disrupted by this pandemic. And in a time where our kids are not able to see their friends at school or other activities - the fellowship that our troop offers is really missed. Let's work together to continue scouting the best ways we can in these times.
EAGLE COURT OF HONOR POSTPONED
Hugh and Jonathan's Eagle Court of Honor scheduled for April 19th is being postponed. Watch for an announcement
TROOP CHAT SERVER
As I have mentioned before, our troop has an online chat server that is monitored by multiple adults. Talk to your scout about joining it to keep in touch with their patrol and troop friends. Use this link from a computer to access the chat server: https://discord.gg/bbNkxwk
VIRTUAL MEETINGS
We're going to start holding virtual meetings for a while - as we wait for the height of the current situation to pass. These meetings will start at the same time (Monday 7:00pm) but will probably only last 40 minutes. We'll be using an online video conferencing solution like Zoom or Google Meet (Try to connect using a device with a camera and use a headset if you have one). Look for an email from me by Monday morning with a web link to this week's meeting. I'll look for the Patrol Leader's Council to come up with some ideas for us to do in these future meetings. For this Monday, let's just focus on getting everyone connected and talking again.
LIFE TO EAGLE
If your scout is trying to complete their final requirements for Eagle this year, PLEASE DON'T DELAY! Our Life to Eagle coaches are standing by ready to help you. Merit badges can be completed with your counselor over the phone or video conference. And we have back-up plans for all other Eagle requirements. Please get in touch with a Life to Eagle coach to discuss your current situation: John Gollner (John@gollners.com / 404-229-2080), Mike Palmer (jmscouting@gmail.com / 404-786-9260), Clay Limbaugh (eagle46527@gmail.com / 678-983-3994)
MERIT BADGE CLASSES
This is a great time for our scouts to work on Merit Badges. I'd like to offer some online merit badge classes, while we are all sheltering in place. If any adult would like to volunteer to teach a Merit Badge class over the internet, I will set up the video conference for you. A list of some Merit Badges that can be completed at home include: (Family Life, Personal Management, Personal Fitness, Reading, American Heritage, Pets, Emergency Preparedness, Public Health, Medicine, Radio, Citizenship in Community, Citizenship in Nation, Citizenship in the World) Please reach out to me if you are interested in volunteering to lead classes in any of these.
Let's keep scouting alive in these coming weeks! Take a look at some of the other things you can do, scouting at home: https://www.atlantabsa.org/scoutingathome
And, may the Great Master of all scouts be with you until we meet again.
Jason Norred
Scoutmaster
Troop 465, Hickory Flat
www.troop465.org
(678) 516-0146


Troop
465 History Project
John Ballard, Nancy Wick, and Dan Warner, along with several others have completed this December 2018 edition of "A Brief History of Troop 465; the First Fifty-Five Years". It's 222 pages which covers 1963 -2018.
Please read and review this document and provide us with any suggestions, comments, corrections, or additions.
With many of you helping (both past and present Troop members and families) this can be a very rewarding project!!!
Please submit your items to Dan Warner at dfwarner2013@gmail.com, or call him at 678-488-5925, or stop by the Scout hut on Monday nights.
Thank you for your assistance,
Troop 465 History Committee
The purpose of the Boy Scouts of America, incorporated on February 8, 1910, and chartered by Congress in 1916, is to:
Provide an educational program for boys and young adults to build character.

Train in the responsibilities of participating citizenship.

Develop personal fitness.
How you can get involved:
JOIN as a youth member with Troop 465.

VOLUNTEER as a Troop Committee member or Assistant Scoutmaster

GIVE to 465 Alumni Inc. to support Troop 465's sponsor.
Serving youth for over 50 years, Troop 465 has had a proud heritage of molding boys into men according to the criteria listed above. Our
Scoutmaster Emeritus, George Lingefelt, say's "If you want boys to become leaders, you have to train them and then let them lead", and thus began our "boy-lead troop" mind set. Jason Norred is our current Scoutmaster and passes these skills on. In fact, Scoutmaster Norred is only our 8th Scoutmaster since 1963.
Since 1996, the Troop Sponsor has been 465 Alumni, Inc., dba Friends of Troop 465, a non-profit organization specifically enacted to support Troop 465 both financially and philosophically. Troop 465 has a permanent Scout Hut, on over 3 acres, thanks to the generosity and foresight of 465 Alumni, Inc.
Troop 465 is unique because of the tremendous support from our members and their families. If you would like more information about joining troop 465, please click here.
Upcoming
April 6, 2020
Summer Camp
Registration Closes
April 13, 2020
Spring Court Of Honor
April 17,2020
465 Alumni Meeting
April 19, 2020
Eagle Court Of Honor
April 21, 2020
Troop Committee Meeting
April 27, 2020
Patrol Leaders' Council (PLC) Meeting
Advancement Work Night
April 25 - 26, 2020
Spring Backpacking Trip
June 7 - 13, 2020
Summer Camp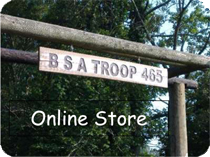 Troop 465 Online Store
Pay for outings, dues, and purchase Troop merchandise